One of the best reasons to use a business insurance broker is because an insurance broker can find great rates for you. The Hartford has made changes to EPLI and TriState Business Insurance wants to bring those to you.

With the number of EPLI claims continuing to rise, small businesses need to make sure they have the right amount of insurance coverage in place to protect them from this real and emerging risk. By decreasing the number of underwriting questions required to purchase increased limits and reducing the minimum premiums for increased limits, it is easier than ever to get the insurance coverage you need.

While, in most states, The Hartford's Spectrum Business Owner's Policy automatically includes $10,000 of EPLI coverage at no additional cost, it may not be enough. Consider...
Costs of defending an allegation can add up quickly
There is a 58% probability for a plaintiff verdict in employment liability claims¹
In 2009, the average settlement award was $363,748¹ (The median settlement award was $95,000¹)
There is no doubt about it -- liability associated with poor employment practices can be costly.

Beginning in December, TriState Business Insurance can bring you the coverage you need. Here's how...
Improved competitive positioning on increased limits - offering you the best value for their insurance dollar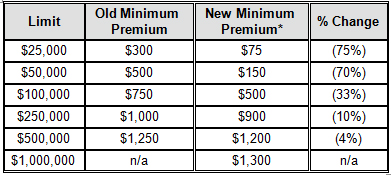 *Minimum premiums may vary due to state requirements
Introduction of a $1M limit - offering maximum protection.
Consider increased EPLI limits. We can help protect you by offering solutions that help proactively minimize risks to your business. Contact TriState Business Insurance about EPLI.

Information from The Hartford
Comments (0)
|
Trackbacks (0)
|
Permalink
|
|