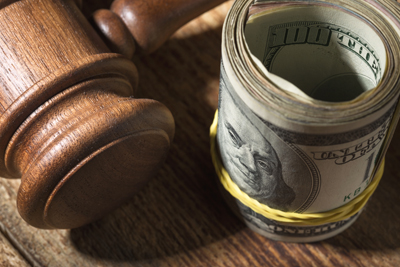 Every business year that goes by where you or your business is not sued is a year to celebrate. Our Virginia, Maryland, and DC business insurance clients realize the imperative that business insurance coverage serves to protect their business, selves, and family from potential financial ruin. The goal, of course, is to never get sued at all which is why we authored this article on your behalf.
Some threats you simply can't predict or prepare for like a customer suing for spilling hot coffee on herself. With that said, there are common sense actions for EVERY business owner to take to limit exposure to law suits. Consider these five:
You Make Promises You Can't Deliver On.
If you want to get sued, make promises where you can't deliver.
We're not talking about your claim to serve "Virginia's greatest hamburger" or "World Famous Chicken Wings" – because everyone knows those promises are subjective marketing ploys. We're talking about hard promises that you can't deliver: "this one little pill will reduce your body fat 10% in ten days" or "double your retirement income guaranteed". Sounds ridiculous, right? But business owners nefariously or naively make such claims all the time.
A better approach is to stay good on reasonable and deliverable promises and then over deliver. Customers remain happy if they think they got good value. This is especially important where your clients are spending vast amounts of money for your services. Of course, most businesses must walk a fine line. You may use superlatives to try to get people through the door, or buying your products. But any strategy of produce sales that relies upon over promises will not be sustainable.
You Do Not Have An Employee Handbook.
Another way you can welcome a lawsuit is by not having an employee handbook. This is a simple step you can take today that will cut down on the chances of a lawsuit.
An employee handbook is a simple communication tool which sets the ground rules for your employees, describing what you expect from them and what they can expect from your company.
You have no excuse for not having an employee handbook, especially given how easy it is to create one from a template.
If you have to fire an employee, and you don't have a handbook, it will be more difficult for you to establish that the reason they were fired was justifiable. Be sure that your employee handbook defines broadly the various different grounds upon which you may terminate an employee. Once you adopt an employee handbook, don't forget to follow it! An employer who has stated policies which were not followed may be held to a higher standard. For example, if you have a handbook that states that employees will not terminated or disciplined under certain circumstances, yet you terminate a certain employee for one of the reasons that are protected in your handbook, then the fired employee may argue that they were wrongfully terminated because your company failed to follow your own procedures.
You Signed a Personal Guarantee..
A personal guarantee is a promise by an individual to repay a debt if the main party to an agreement cannot or does not. In and of itself, signing a personal guarantee won't get you sued. However, it certainly increases your chances. After all, what's the point of forming a corporation or forming a LLC to shield you from liability if you later get sued on a personal guarantee?
There are two problems. One is that many people don't realize the significance when they sign a personal guarantee. People tend to assume the best, so they assume the personal guarantee will never be necessary.
The second problem is that there are many circumstances where you must sign a personal guarantee or else you won't get what you need. For example, commercial property owners often require the principal of a business to sign a personal guarantee for a lease agreement, or a lender may require a small business owner to sign a personal guarantee on a business line of credit.
It's a difficult choice – refuse to sign the guarantee or sign the guarantee and get the lease or loan you need. Most people simply sign the guarantee and hope for the best. A better option is to sign the guarantee, but to cap the amount of your damages in the agreement.
You Do Negligent or Intentional Acts Which Harm Others..
This is a no-brainer. You own a LLC or a corporation. You drive aggressively and dangerously during a business lunch and cause a car accident. You leave broken glass out where customers may step. You forcefully push an angry (maybe even a hostile) customer out your business' front door and they whack their shoulder along the way. Personal injury and accident claims are be easily avoided with just common sense.
These are negligent and/or intentional acts, and they will subject you to a lawsuit. But I don't think you really needed me to tell you that.
You Breached Your Fiduciary Duty.
If you are an officer or a director of a corporation, you have a fiduciary duty to the company's shareholders. This is a legal obligation to act in the best interests of the shareholders.
The client is entitled to the best efforts of the fiduciary on his behalf and the fiduciary must exercise all of the skill, care and diligence at his disposal when acting on behalf of the client.
The fiduciary is held to a high standard of honesty and full disclosure and cannot obtain a personal benefit at the expense of the person or shareholder. Any owner who violates this fiduciary duty can be sued personally for damages that result from their actions or inactions.
The major take away here is that today's American society is more litigious than at any time in our history. Far too many people wish to be given their money than earn it. One tool of the lazy is to sue business owners for frivolous reasons that include their very own mistakes or judgment errors like spilling hot coffee on themselves. Don't provide these people with the ammunition to sue you. Be observant, be active in prudent business policy and safety enforcement, and be prepared with comprehensive small business insurance that, on a daily basis, saves American business owners from financial ruin.
TriState Business Insurance is positioned to offer your business the best business insurance consultation and coverage at the absolute most affordable rate. We defend that promotion based upon the fact that we are independent insurance agents who work directly for YOU and NOT for any single individual insurance company. We are business insurance consultants first and foremost. This fact differentiates us from the vast majority of the business insurance industry comprised of business insurance salespeople who work directly for insurance carriers and are incented to sell high cost (and often unnecessary) insurance coverages.
---