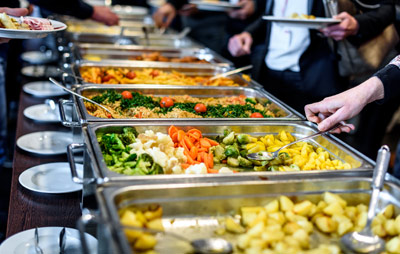 More and more Americans desire to dine at home but have little to no interest in cooking and cleaning. Caterers are filling that market void at a high rate with more and more caterers adding home delivery services to their business portfolio. As with any business enterprise, home food delivery introduces unique business insurance considerations. As your independent business insurance agent (in VA, MD, and DC) we are uniquely skilled to consult you on the litany of considerations and coverage options specific to the food catering industry. All of the restaurant and catering insurance policies that we craft (for clients in VA, MD, DC) cover you against the obvious risks but also all the not so obvious risks that you are subject to. Some of those risks include:
Physical damage or loss of catering items

Damage that you or staff inflict upon delivery sites

Theft or vandalism of your catering vehicles

Protection from food allergy and other food-born illnesses

Auto insurance for your delivery vehicles

Losses incurred by illness or unforeseen circumstances
We highly advise you to secure your restaurant and/or catering business insurance policy before you even think about turning the sign in your door to "open". It's simply a risk not worth taking. We'll do the leg work for you so you can concentrate on getting things set up. So contact your independent insurance professionals here at TriState Business Insurance and get that dream of business ownership started on the right foot.
---