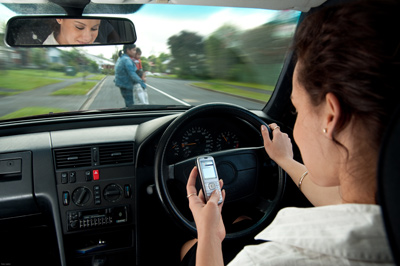 Here's another safety-related blog post from your friendly independent insurance team here at TriState. Studies reveal that the American commuter spends 38 hours a year stuck in traffic. For some, getting behind the wheel is mundane. For others, it's new or nerve-racking. Regardless, when it comes to driving, safety needs to be a priority. Financial safety begins with having excellent quality personal auto insurance coverage. Physical safety begins with good planning.
Here are the top five tips, several recommended by wikihow.com to avoid distracted driving:
Program your GPS. I need to know where I'm going before even getting into my car. It's a lot easier to enter my destination into the GPS before leaving the driveway.
Pay attention to your windshield. Before I take a longer trip, I always check my wiper blades, wiper fluid and of course, clean my windshield. Filling the wiper fluid is easy; it prevents the agony of trying to see during a storm. I also recommend spraying anti-streak solution on your windshield to keep your line of sight clear.
Monitor your kids and/or pets. If you're driving with children, buckle them in and provide age-appropriate books and toys to keep them occupied and minimize interruptions while driving. If you have pets, make sure that they are put in comfortable crates in the back of the car, blocking them from entering the front seat area.
Ditch the phone. Don't be tempted to use your cell phone while driving! Some tips are to: silence your phone, place it in airplane mode or put it away in your pocket. If you feel the urge to check your voice mail or call someone, pull over at a rest area or gas station. You can also see some more driving and cell phone safety tips in our blog post titled: Cell Phones and Driving: A Dangerous Mix.
Prepare your music. trying to find the right song can be difficult at times; especially if you are a music lover! Preset your radio buttons and use the "Seek" function rather than pressing random buttons to trying to fiddle with the dials while driving. When it comes to CD's, pick them before moving your car and put them in an accessible place. CD's are probably not the common distraction for music anymore, so even pre-set playlists on your phone if you will be listening to music that way.
By spending a little time planning, you can get to where you need to be safely! Contact us regarding how to protect yourself in your auto. Ask us about what you are covered for in case of an accident, as well as what could happen if you are in a car accident with someone who is a distracted driver.
---