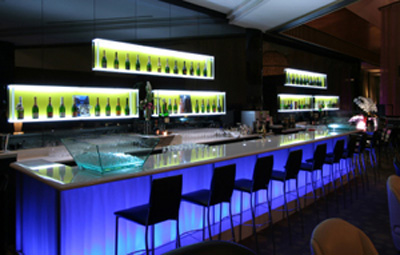 Spring is almost here. Soon enough, people are going to break from their winter slumber and begin patronizing bars, restaurants, and taverns in increasing numbers. That's the good news. The bad news, more customers, more risk. As families and adults in general get into the "relax state of mind," part of it is having more time to go out during the night and enjoy days and weekends at your bar, enjoying your signature drinks, and your unique atmosphere.
This is what your business is built upon. Now is a good time to consider where you are in terms of business insurance for you Virginia, Maryland, or DC bar or tavern.
5 liability issues restaurant, bar and tavern owners often deal with:
1. DUI's
The most common type of liability claim come from customers who drink too much while in your bar and then drive themselves away. If your bar is on the water, you need to worry about the exact same risk associated with drunk boaters. To transfer the risk of over-service-related claims, all bar owner need to be protected by a Liquor Liability policy with adequate limits in addition to a General Liability policy.
2. Activity hazards
As a bar-tavern owner you can expect an occasional bar fight and the injuries caused by it. But expect more people to fall out of your bar stool and injure themselves than get injured in a bar fight. Do you serve flaming drinks? Those flaming drinks accidentally spilled upon your customer can cause significant bodily injury. Do you offer outdoor activities like volleyball, corn hole, or any number of other popular outdoor games, mixing drinking and exercise of any form significantly increases the risk of patron bodily injury. Claims arising out of these types of activities may be covered under the premise liability portion of a General Liability policy or the Liquor Liability policy, but more often these type of risks are excluded.
To make sure all activities occurring in the bar are covered, the insured needs to carefully disclose them on the insurance application so the agent can secure appropriate coverage. Your agent can add coverage for these activities by endorsement for additional premium, but the agent first needs to be informed.
3. No exit zone
The risk of a lighted exit sign malfunctioning or an exit door being blocked (or locked) to prevent patrons from entering the bar is common. This liability vulnerability should not be overlooked or underestimated. If there was ever a fire in a nightclub and patrons were unable to exit, the claims for bodily injuries and property damage might easily exceed the aggregate limits of a standard $2 million dollar policy.
4. Extreme hot food and drinks
Servers can and do accidentally spill hot food and beverages on your patrons. Burns are painful and can cause disfigurement. Damages awarded by juries for pain and suffering can ruin your business and your life if you are not properly protected.
5. False Id's
Bar owners should consider investing in ID scanners to help identify false documents because the responsibility for a patron engaging in underage drinking remains with the serving establishment, even after the patron has left the premises. You must realize that this is a very small list of five potential liability risks to you and your bar/tavern operation. It takes seasoned independent insurance professionals to be able to consult you on all the liability risk considerations for your business. This is one element of the insurance industry where agents of large insurance companies introduce excess fear in their consults to over-sell coverage at needless cost to you. Your independent insurance agents like us here at TriState Business Insurance work for YOU, not any single insurance company. In fact, after close consult with you about your unique business and your unique business risk, we'll research over two of the best rated insurance carriers on your behalf to identify the very best value for you insurance dollar.
Call us!
---