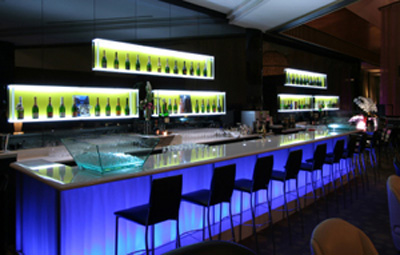 If you're a beer enthusiast or self-proclaimed wino, opening up a bar or pub can be a satisfying career. But it's not as simple as stocking a bunch of bottles and opening your doors for business. You have to go through the right channels to obtain a business license, secure alcohol suppliers, decide on a décor theme and hire a skilled staff of bartenders and waiters. All of this can add up to one whopping investment, so you'll need the right coverage to protect your finances. Luckily, your independent insurance agent can help you build a customized bar and tavern insurance policy to protect your Virginia, Maryland, or DC establishment.
Though you'll have to talk to your agent for exact specifics, let's take a look at some of the generalized coverage options that you may wish to consider when building your policy.
Property: Offers funds for the repair or replacement of physical property — such as glasses, furniture, inventory and other items that are damaged by a covered event.
General Liability: This covers medical and legal expenses associated with the injury of a patron or other third party while on your business' property.
Liquor Liability: While alcohol is enjoyable in moderation, it can spell disaster if your patrons get sloppy drunk on your barstools. This coverage helps fund the financial mess of such a patron hurting others or causing damage to property while intoxicated.
Food Contamination: If your bar or pub serves up appetizers and other tantalizing dishes, you're responsible for the cleanliness of your kitchen and food safety. This coverage option can be of assistance if claims of food poisoning and other ailments are raised against you.
Assault and Battery: Unfortunately, it's not uncommon for bar brawls to break out, regardless of whether a patron or an employee is the catalyst. Resulting damages and injuries can be funded with this coverage option.
Auto/Valet Liability: Covers damages that may occur to patrons' vehicles while temporarily in possession of valets at your establishment.
Ready to talk through all this and more? We've got you covered. Your independent insurance agents here at TriState will provide you the unbiased consult that won't be provided by insurance agents working directly for insurance companies. Give us a call!
---