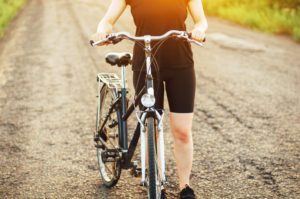 We love the stories emerging from theinsurancejournal.com as they remind us of just how quickly life can go wrong for uninsured or underinsured people. Here's another story of how umbrella insurance would have saved two people from bankruptcy. The offenders liable act that caused him and his victim to file for bankruptcy: riding his bicycle. Yes, it caught our attention also.
More than one-fifth of bicyclists killed in crashes are impaired by alcohol. They're also more likely to be riding without a helmet, a contributing factor to bicyclist deaths.
Biking while drunk might seem harmless. How much damage can one bike cause? Take this real-world case from my files and see what you think.
Derek rode his bike to work every day, mainly for the exercise. One Friday afternoon after a difficult project was completed, he and his coworkers decided a happy hour was in order.
After a few drinks, he decided he better ride home before he lost the daylight. As he was cycling out of town, he ran a red light in front of Heather. Swerving to avoid him, she collided with another car and sustained a variety of complex injuries, which resulted in decreased mobility and motor function. She was unable to return to work as a university mathematics professor for several months.
Claim: $925,000
How can an umbrella help?
Heather's medical bills quickly exhausted the minimum coverage offered by Derek's renters insurance, so she had no choice but to sue him for reimbursement, incurring legal fees paid in advance, out of her own pocket.
Because Derek didn't have significant liability insurance coverage, he declared bankruptcy, putting Heather back to square one. Burdened by debt, unable to work and without compensation for lost wages, she too was forced to declare bankruptcy.
Rewriting the story
If Derek had a personal umbrella policy, liability insurance coverage, or a combination of both, it would have covered the gap left by the underlying policies to take care of Heather's lost wages and medical bills.
Life's uninspected turns can turn financially catastrophic for the ill prepared. You friends here at TriState Insurance will not let this happen to you. You'll likely be surprised and the relatively low cost of this insurance. You most certainly will not be surprised at the peace of mind that it offers. Call us.
---