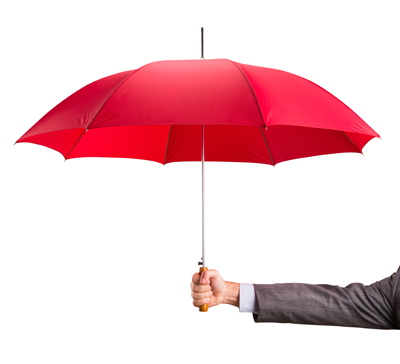 An umbrella policy gives you that extra boost of protection in case of an accident. In the world we live in today there are many cases of people suing people for large amounts of money. Every single one of us are vulnerable to involvement in these situations where we could be liable for an accident. Don't let terrible scenarios happen to you--instead make sure you are covered!
The following are some peace of mind coverages that may come with an TriState umbrella insurance policy:
Excess Liability Insurance: Coverage limits are higher than what is provided by primary insurance policies for mishaps occurring anywhere in the world. Including: Liability and property damage liability.

Defense Coverage: Pays defense costs for any suit brought against you when coverage for the loss is provided by the insurance umbrella policy.

Supplementary Payments: Pay other expenses that an be involved in conducting your legal defense.

Million Dollars of Coverage: Your personal umbrella policy can give you $1,000,000 in coverage for each occurrence--and even higher limits are available!

More coverage than you already have!
Contact your TriState independent insurance agent to talk more about what an Umbrella Policy covers and why they're important for protecting yourself.
---